The Fariña Files
Home | Time Line | Cast of characters | This one's for Mimi | Newport Folk Festival 1965 | Photos and Sources | Annotated Discography | The Books - a guide | Favorite Links | Contact Me
Annotated Discography
Dick & Mimi's LPs | Vanguard : TwoFers | Vanguard collector's guide : singles | Vanguard LPs, 1960-1969 | Vanguard labels | Elektra : selected discography | Selected contemporary discography
Vanguard Collector's Guide
Singles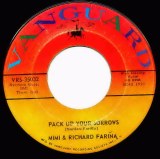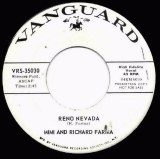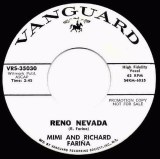 Though the '60s were alleged to be a prime time for the folk revival, not much money was actually made by the Folk : it was far more likely to be made by beautiful women in pearls or groups of ex-college frat boys signed to a major label than eastern college drop-outs with politics and Leadbelly on their minds, signed to Folkways or Prestige or Vanguard. Folk music was more of a spice and an influence than a presence on the Top 40 for most of the revival. Following a spate of history songs sung by country artists (who were considered "folk") in the late 50s, like "Sink the Bismarck" by Johnny Horton, and Stonewall Jackson's "Waterloo", the first recognizable folk act to get hit singles were the Kingston Trio (signed to Capitol), who had ten Top 40 singles between "Tom Dooley" in the fall of 1958 and "Reverend Mister Black" in the spring of '63. The Highwaymen probably sent more than their share of trees to a fiery end with "Michael, row the boat ashore" (United Artists), and Lonnie Donnegan brought British skiffle late into the mix with "Does your chewing gum lose its flavor..." (Dot) in September, 1961, with the Highwaymen returning with "Cottonfields" in February, '62. Uniquely unreformed beatniks, Peter, Paul & Mary (Warner Bros.) had twelve Top 40s between June, '62 ("Lemon Tree") and November, '69 ("Leavin' on a jet plane"). The New Christy Minstrels (Columbia), a way-too-large peppy assembly of tambourine-whackers and toothy grins had three top 40 hits in 1963-64, including "Green, green" in July of '63. "Don't let the rain come down" was a number 10 for the Serendipity Singers (Phillips) in May of 1964, and Gale Garnett had a hit with the self-penned "We'll sing in the sunshine" for RCA in September of '64. Though most would have been more at home in the local dinner theatre than the local folkie dungeon, the commercial folk groups at least let people know there was more (and usually better) music if you wanted to look. It should be noted that in July of 1964, the Animals, a white blues band riding the British Invasion from England's imaginary delta, released their first US single, a four-and-a-half minute version of the traditional "House of the Rising Sun", giving more than one urban neo-traditionalist a glimpse at the wave to come within the next year. Peter, Paul & Mary stayed true to their political roots, their vision of a borderless music and integrity ("Uh, we want this next song ['I dig rock and roll music'] to be our next single. Our manager says 'Over His Dead Body'..."), recording and releasing a single by the then-unknown songwriter, Bob Dylan. "Blowin' in the wind" would hit number one in July of 1963. This single would light a slow fuse that would burn until it hit the mother lode during the summer of 1965, when "Tambourine man" by the Byrds would clear the way for folk's mutation into an electric era, followed quickly by Dylan himself with "Like a rolling stone". Singles quickly became a major, radio-friendly medium for folksingers, as long as they had drums behind them.
Vanguard was never a hit-making machine, and their vision of commercial success was based on album sales, not singles. As a result, not many singles were ever issued by Vanguard. Their numbering theoretically would have started with VRS-35000 in 1960 or so, reaching 35017 by early January, 1961 when the Rooftop Singers had the label's first and probably last #1 hit, with "Walk Right In" (Joan Baez gave them their second brush with the top five in 1971 with her lyrically-challenged version of the Band's "The night they drove old Dixie down", which went to #3). The label went into a tizzy, and besotted with success, went whole hog on the group's next two releases printing four-color picture sleeves for each, an extravagance they would not rush into again for four years, and then only for Joan Baez (VRS-35031, "There but for fortune"). By the end of the '60s, they'd gotten all the way up to 35091 (Buffy Sainte-Marie's "Better to find out for yourself", from her 1969 Illuminations album). It is likely they did not release anywhere close to one hundred singles during that period, and I've never seen anywhere near that many different releases. They seem to have gotten their singles out to record stations, as it is far more common to find a white promotional label than their stock label for a great many of their singles. I'm sure at least a handful of their singles sold in relatively good numbers, but hits were alien territory for them and, as a result, huge pressings for any of their singles were not likely.
VRS-35017 - Rooftop Singers - Walk right in/ Cool water (1963).


Their labels were very distinctive. First was a black label which lasted for about 3 years, followed by the more common rainbow-colored labels. Either side featured the color spectrum gradated from the bottom up in either direction of the spectrum: yellow to blue, or yellow to red, with multi-colored lettering over the grenadier on horseback logo. As far as I can tell, no color was preferred as the "A" side.
Their promotional labels were the standard white, with the layout the same as a stock issue but minus color. All bore the traditional skull-and-crossbones warning, "Demonstration copy - Not For Sale".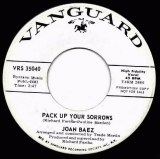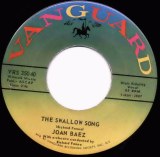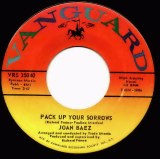 VRS-35040 - Baez, Joan : Pack Up Your Sorrows/The Swallow Song - the first label noted is the B side, using the yellow-to-blue design; the middle is a white label promotional copy of the same single's A side ; third is the A side, with the yellow-to-red design. Vanguard didn't seem to favor one color scheme over the other when it came to denoting the A side or the B side.
There is, as always, an anomaly or two to lay waste to all theories and confidence. Here we have the sand in the sun lotion:
VRS-35026X - Baez, Joan. With God on our side (live) / Railroad Bill (live) / Rambler Gambler (live).
Both sides are live recordings, outtakes from Joan Baez in concert, v. 2, and now available as bonus tracks on the CD reissue. This is a Vanguard jukebox promo single released in June, 1964. It uses the same design and color scheme as the LP of the same period. It is marked "Not For Resale" on the right center, just below the note that this is 33 rpm, rather than 45. It has a small spindle hole rather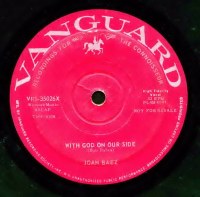 than the normal gaping one. It is, nonetheless, a single. The catalog number adds an "X" to the normal catalog number and that assigned to promotional issues. Now, try and figure out how much dancing got done to this one.
In the very early '60s, several larger record companies came up with the brilliant idea of marketing a sampling of their singles as 33 rpm "maxi-singles", or "compact singles". However, 1964 would have been three years after all the other companies concluded that this format wouldn't sell and thus had abandoned the format, so it's unlikely that Vanguard was trying to breathe air into a corpse. Hence the judgment that this was for jukeboxes rather than radio stations, and matches other 7" jukebox 33 rpm releases (notably Brenda Lee on Decca) which are generally noted on the label. Except at Vanguard. Therefore, I suspect the format on this (and this is the only one like it I've ever found) is a unique effort to get the single played on radio stations not used to, or possibly not even equipped for, the playing of 45s. (It should be noted that SPV-6, a gold-labeled 33 1/3 single by Joan Baez, was included as a bonus disc with her 1971 Blessed Are album, and notes on the right hand side that it is part of VSD-6570/1)
The most interesting thing about Vanguard's singles is that Vanguard seems to have had an open policy on singles - other than getting them shorter than the album versions, they really don't seem to have fussed much with getting them "radio friendly". They might have edited them, or rearranged them slightly, but on the whole, they allowed the songs to speak for themselves.
Technically speaking, the label didn't really do separate mono mixes for their LPs, as some labels did, preferring to dub the two or four track stereo master down to one track and call that mono. But they almost always did different mono mixes for their singles. The singles seem to fall into two categories - stereo masters compressed to mono, but always one second longer, or complete remixes or even re-recordings almost a full minute or more shorter than the album version. Hence you have Ian & Sylvia's "Four Strong Winds" (1963, VRS-35021) not only clocking in at but 2:35 on the single (down from 3:42 on the LP), but also a completely different take, with different guitar parts and the addition of a drummer using brushes; the Fariñas' "One Way Ticket" (probably released late 1965, on VRS-35030) was 3:22 on LP, but 2:50 on the 45, with the other side, "Reno Nevada", 3:33 versus 2:45 and both are what sounds like new vocals over edited backing tracks.
Most singles I've seen over the years have been strictly album-based from the artist's most recent release; occasionally you'll find non-LP songs.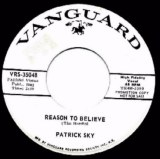 Patrick Sky had at least two non-LP singles: "Reason to believe"/"Guabi, guabi", and "Love will endure"/"Keep on walkin". Joan Baez released two songs from her aborted rock album (produced by Richard Fariña, who also played dulcimer on one) in the summer after his death, "Pack up your sorrows" and "The swallow song" (seen halfway up the page in promo and stock releases).
While Vanguard, Elektra and a few of the other folk labels carried a most impressive talent roster during the sixties, it was always the suits and the major labels that got the hit singles. At least until they got used to folk bands playing loud and electric and started signing bands the major labels were afraid of, and thus was born the underground...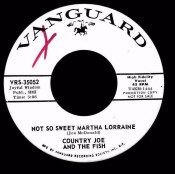 ---

VRS-
Artist
Title
Date

---

35012
Baez, Joan
Banks of the Ohio / Old blue
10/1961
35013
Baez, Joan
Lonesome road / Pal of mine
2/1962
35017
Rooftop Singers
Walk right in / Cool water
1961
35018
Baez, Joan
What have they done to the rain / Danger waters
11/1962
35019
Rooftop Singers
Tom cat / Shoes (ps)
1963
35020
Rooftop Singers
Mama don't allow / It don't mean a thing (ps)
1963
35021
Ian & Sylvia
Four strong winds / C.C. rider
1963
35023
Baez, Joan
We shall overcome (live) / What have they done to the rain (live)
10/1963
35026
Baez, Joan
With God on our side / Railroad Bill-Daddy you been on my mind (medley)
6/1964
35028
Sainte-Marie, Buffy
Until it's time for you to go / The flower and the apple tree
6/1965
35030
Fariña, Mimi & Richard
Reno Nevada / One way ticket
1965
35031
Baez, Joan
There but for fortune / Daddy you been on my mind (ps)
6/1965
35032
Fariña, Mimi & Richard
Pack up your sorrows / Joy 'round my brain
1966
35040
Baez, Joan
Pack up your sorrows / The swallow song (ps)
6/1966
35046
Baez, Joan
The little drummer boy / Cantique de Noel (ps)
11/1966
35048
Sky, Patrick
Reason to believe / Guabi guabi
1966
35050
Sainte-Marie, Buffy
Jusqu'au jour ou tu partiras / Until it's time for you to go
6/1967
35052
Country Joe & the Fish
Not-so-sweet Martha / Masked marauder
7/1967
35053
Sainte-Marie, Buffy
The circle game / Until it's time for you to go
7/1967
35055
Baez, Joan
Be not too hard / North (ps)
6/1967
35059
Country Joe & the Fish
Janis / Janis (instrumental)
11/1967
35060
Guy, Buddy
Mary had a little lamb / Sweet little angel
1968
35061
Country Joe & the Fish
Who am I / Thursday
1/1968
35064
Sainte-Marie, Buffy
The piney wood hills / Soulful shade of blue (ps)
6/1968
35068
Country Joe & the Fish
Rock and soul music Part 1 / Rock and soul music Part 2
7/1968
35075
Sainte-Marie, Buffy
I'm gonna be a country girl again / From the bottom of my heart
1969
35080
Guy, Buddy
Fever / I'm not the best
1968
35088
Baez, Joan
Love is just a four letter word / Love minus zero - no limit
4/1969
35090
Country Joe & the Fish
Here I go again / Baby, you're driving me crazy
6/1969
35091
Sainte-Marie, Buffy
Better to find out for yourself / He's a keeper of the fire
12/1969
35092
Baez, Joan
Rock salt and nails / : If I knew
1969
35098
Baez, Joan
Hickory wind / Four days gone
8/1969
35103
Baez, Joan
No Expectations / One day at a time
3/1970
35106
Baez, Joan
Sweet Sir Galahad / Ghetto
6/1970
35108
Sainte-Marie, Buffy
Better to find out for yourself / The circle game
8/1970
35112
Country Joe & the Fish
I feel like I'm fixin' to die rag / Maria
1970
35133
Baez, Joan
The night they drove old Dixie down
1971
© 2002 by Greg Pennell
URL: https://farinafiles1.tripod.com/VanguardSingles.htm
Last modified: 21 September 2002