The Fariña Files
Home | Time Line | Cast of characters | This one's for Mimi | The Books - a guide | Newport Folk Festival 1965 | Photos and Sources | Annotated Discography | Favorite Links | Contact Me
Cast of Characters
Andersen, Eric - Singer/songwriter; became highly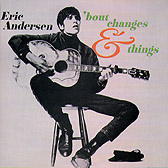 visible when Beatles manager Brian Epstein showed interest in managing him; gave credence to electric music, but kiss-off to acoustic, by recording his acoustic second album, 'Bout Changes & Things (1966), over again as his third album, 1967's 'Bout Changes & Things, Take 2. Recorded for Vanguard ('66-'69), Warner Brothers ('70), Columbia ('73), and Arista ('75-'77).
Arnoldi, Paul - Wyoming-born performer, became Cambridge transplant in early 60s, filled in for John Cooke (Summer, '62) in Charles River Valley Boys. Recorded album for Kapp (KL-1478) with notes by friend Dick Farina.
Banana, aka Lowell Levinger - Transplanted Californian and acting student at Boston University circa 1963. Played bluegrass in the summer of '64 and joined up, as a piano/organist, with Jesse Colin Young in 1966 to create the Youngbloods (RCA); later solo on Warners (early '70s). Played guitar and toured with Mimi in late 70s.
Basler, Fred - manager of the Boston folk club, Golden Vanity , later opened folk club in Baltimore ('63).
Blue Ridge Mountain Dancers - Way-too sprightly dancers from Asheville, North Carolina, lead by Joe Bly, performing twice at New Folks Concert, Newport '65 (#3 on the concert schedule, and again at #9).
Boyd, Joe - Harvard student, roomate of Tom Rush, and record collector; began promoting blues concerts. By mid-'60s, he was working for Elektra Records as their UK rep; in 1966, he produced the first Pink Floyd single, Arnold Layne, going on to produce the early Incredible String Band, Fairport Convention (and later, Sandy Denny solo & with her own band Fotheringay), and just about everyone else folk-related for a few years. He also produced both Geoff & Maria Muldaur albums ('71-'72), and several of Maria's solo albums for Reprise.
Broadside (Boston) - Local Cambridge folk scene paper, started in 1962 by David Wilson. As stated nicely by David Seeman, the Boston Broadside "was not at all political, but rather a music journal with concert listings, record reviews, and accounts of the culture change that was happening in the mid-60s. Eventually it merged with another alternative paper, The Free Press, and was printed back-to-back upside down with that more newsy magazine for awhile. I don't know when it died but I imagine in the late 60s or early 70s."
Broadside (New York) - Regarded as highly opinionated, it was "filled with insider's chit chat and gossip", eventually run by Sis Cunningham, it published a large number of folksongs, particularly those politically-oriented, including "Birmingham Sunday" by Farina. Sis Cunningham's personal files, recordings and ephemera have been deposited in the Manuscripts Collection of the University of North Carolina at Chapel Hill as Broadside Collection #20289.
Butterfield Blues Band - Fronted by Chicagoan Paul Butterfield, the band was started in 1964 and quickly signed by Elektra. They recorded their first album in December 1964 and had it pressed, jacketed and packed, ready for shipping, when producer Paul Rothchild and Elektra head Jac Holzman decided it

wasn't the album they'd hoped for. Plans were then made to record a live album in Chicago in December of 1964, at great expense, and this time they reached the edit stage before everyone agreed, again, that it wasn't the album everyone had hoped for. Re-rerecorded in a New York studio with borrowed equipment (their own had been stolen after they unloaded it on a sidewalk in front of the Albert Hotel and expected it to be there five minutes later), it was finally released in the spring of 1965. Their performance at Newport in 1965 was first and foremost a powerhouse, warp 5 production, generating waves of excitement as they opened the festival on Thursday night, led off at several of the workshops, and opened for the final evening concert. The band featured Butterfield on harmonica, Mike Bloomfield and Elvin Bishop on guitar, Jerome Arnold (bass), Sam Lay (drums), and originally, Mark Naftalin (later of Mother Earth) on organ. The first album featured the then-novel suggestion "That you play this record at the highest possible volume." They hit their stride with their second album, the landmark East West (1966). The band went through various mutations and recorded 4 more albums for Elektra before disbanding in 1971. Butterfield moved on to his Better Days band in 1973 (w/ Geoff Muldaur and Amos Garrett - Muldaur says they were playing on a bill with an older, revered bluesman who grabbed him backstage and pointed to Butterfield and said, "Do you KNOW who that IS? DO YOU KNOW WHO THAT IS?" Muldaur says he hadn't thought about up to that point, but after it, "I thought about it a lot".)

Cahn, Rolf - German-born, heavily political guitarist, gave guitar lessons (to Mitch Greenhill among others), lived on Dana St. in Cambridge, recorded solo for Folkways as well as a joint album with Eric von Schmidt for that label in 1961. Later moved to Berkeley with Debbie Green and started a club named Cabale.
Camp, Hamilton - Actor and singer, performing originally as Bob Camp, recording solo albums (EKL-177 Ski songs and EKL-197 Yes, I see) as well as the 1961 Bob Gibson collaboration (EKL-207) At the Gate of Horn. Under the name Hamilton Camp recorded the 1964 Paths of Victory (EKS-7278) for Elektra, before his religious conversion (to Bahai, I believe) resurrected him as Hamid Hamilton Camp for Warner Brothers. Performed as vocalist with the Skymonters (recording for Mountain Railroad). An early champion of Dylan's songs, he wrote "Paths of Victory". Performer #4 at Sunday afternoon New Folks concert in 1965.
Chambers Brothers - Lea County, Mississippi group, though one brother had attended the same high school in Brooklyn as Fariña; originally just Willie, Joseph, Lester and George Chambers, they started out doing gospel, eventually working their gospel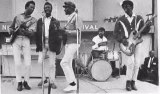 harmonies into folk tunes, sung and unsung (witness their "Bottle Music" on the Newport '65 album). They performed 'electric' (with the Butterfields' Sam Lay on drums) at the Newport New Folks concert (# 7) on Sunday, before the rain and to no fuss whatsoever, unlike Dylan later that night. Their performance included a pre-Little Richard ("She's got it") traditional song, "I got it", which came as close as that weekend could to showing that rock was just gospel and R&B signed to a bigger record label. They recorded their live show-stoppers, "Shout" and "People Get Ready" for Vault Records in 1965, before adding Brian Keenan on drums and moving on to "soul's been psychedelicized" music. In 1968 they switched to Columbia, recording the massive hit "Time Has Come Today".
Charles River Valley Boys -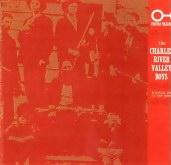 Bluegrass band from the Charles River delta, founded in the late '50s by Bob Siggins, Ethan Signer and Eric Sackheim (who left in 1960 on a Fulbright to Japan), with Clay Jackson also an early regular. Formerly the Laurel River Valley Boys, they were renamed by Lynn Joiner, who also recorded them privately in 1960. An album, Bringin' in the Georgia Mail was partially recorded in London at Dobell's Jazz Record Shop. After various personnel changes in the next two years, they recorded an album for Prestige in 1962, produced by Paul Rothchild at the Harvard Music Association Library with a line-up including Fritz Richmond and John Cooke, and a well-remembered collection of Beatles' songs redone in bluegrass style for Elektra in 1966 (Beatle Country EKS-74006, this time with Jim Field, Siggins, Joe Val, Everett Lilly, Craig Wingfield, Eric Thompson and the ubiquitous Buddy Spicher on fiddle).
Copyrights - A funny area in the mid-60's revival. Traditional melodies had always been adapted to contemporary use, words changed and notes tweaked, because nobody was making any money from it. When folk music finally became bankable and publishers got interested in latching on to rights, things could get a little hairy. Baby Let Me Follow You Down notes how 60's Vanguard artist Jackie Washington still burns about how his arrangement of "Nottamun Town", a traditional song he had first heard performed by Jean Ritchie and then transposed into a minor key and played for Dylan, came shortly thereafter to be copyrighted by Dylan as "Masters of War". Pete Seeger states, in How Can I Keep From Singing, that "...songs not destroyed were often stolen; attaching the words "adapted and arranged by" gave two cents extra royalties per disc to the singer." He also notes that in the late '50s Alan Lomax had asked Seeger to acknowledge Lomax as the owner of the songs that he and his father had collected. Seeger puzzled, "How could Alan... claim royalties from songs that had belonged to the public domain?"
Costner, Tom - An American lawyer and ex-pat, he work in the Paris office of the firm of Hays and Busby; attempted to incorporate his love of music with his legal abilities and offered to manage Carolyn Hester and was rebuffed by her husband/protector/imaginary manager, Dick. Tom also had been managing Richard Lockmiller and Jim Connor and got them a recording contract in London with Folklore Records, which released their LP with liner notes originally attributed to Dick and Carolyn Hester, later to Dick alone. Along with his sister, Eve, Costner was one of the witnesses to the French wedding of Dick and Mimi.
Court, John - Assistant to Albert Grossman, he handled press relations, shooed people from the studio, co-produced Don't Look Back and earned a thank-you from Dick ("for his bubblegum machine") in the liner-notes to Reflections In a Crystal Wind.
Greene, Richard - Virtuoso fiddler from California's green and fertile imaginary bluegrass hills and dales, he first played with numerous local old timey and bluegrass bands while a student at Berkeley . After graduation, he veered slightly in his intent to become a real estate salesman and went instead in 1964 to NYC where he met up with Bill Keith (who was playing with Bill Monroe at the time), recorded (uncredited) with the Greenbriar Boys and by 1966 had himself been hired by Monroe. A short stint in the Bluegrass Boys was followed in 1967 by his employment in the Kweskin Jug Band (recording only one LP with them, Garden of Joy), he left when the band was folded, and at Andy Kulberg's request, he stepped into the remains of the Blues Project, which Greene then suggested needed the addition of old buddy Peter Rowan, and became Seatrain (recording three albums with them). At some point in here, he also had time to write the score for the movie Riverrun. With Tim Weissberg, Jim Rooney and Bill Keith, he then formed influential Blue Velvet Band for the duration of one LP, after which he spent most of the remaining decade as a backing musician for a wide array of performers, from Emmylou Harris and Taj Mahal to Rod Stewart and Loggins & Messina. During this time he also performed and recorded with David Grisman and Jerry Garcia as Old & In the Way which later mutated into Muleskinner (with Clarence White replacing Garcia, and in 1974, he joined Grisman and Taj Mahal in forming the folk-bluegrass ensemble called the Great American Music Band. Not one to waste a spare moment, Greene also recorded three solo albums with his band The Zone in the late 70s for Rounder, plus another for Sierra, then toured Japan with Tony Trischka & Peter Rowan (releasing two Japan-only albums in 1980). Since then, he's performed all over, with everyone, done recordings with half the known world, won a Grammy (in 1997 for his contribution to a Monroe tribute CD on Sugar Hill), gotten another Grammy nomination (1998 - Sales Tax Toddle), and seems to be currently recording for Rebel Records. I will assume idle moments are not high on his list of indulgences.
Greenbaum, Norman - aka David Simon, Rex Rakish, Bruno Wolf, Sebastian Dangerfield, Hugh Bailey and a host of other disguises. A friend of Jim Kweskin's from their days in Berkeley, CA, he was an original charter member of the Kweskin Jug Band as David Simon, although that LP's bio names him as Bruno Wolf - playing kazoo, harmonica and occasional vocals on their 1963 debut album. He left the band just as Maria D'Amato (Muldaur) joined, though his harmonica work had been taken over earlier by Mel Lyman (both Lyman and Wolf/Greenbaum would appear on the Jug Band's TV debut/finale on Steve Allen's show in March of 1964). In 1965 or '66, he formed Dr. West's Medicine Show and Junk Band, recording one album and a semi-hit single (The Eggplant that ate Chicago), and popping up in 1969 as Norman Greenbaum, insisting this was his real name. He released a big hit (Spirit in the sky) that year which was followed over the next 4 years by two more albums on Reprise. He went into flower cultivation and occasionally emerges now and then with claims of general satisfaction with life.
Kathy & Carol - Carol McComb and Kathy Larisch,
two 20 year-olds from Vista, California, sang traditional songs (and one contemporary song, Mark Spoelstra's "Just a Hand to Hold", which, according to their liner notes, "we sing because it is beautiful") in a very beautiful and haunting high-pitched and vibrato-heavy style, somewhat similar to the much later McGarrigle Sisters. Paul Rothchild described their one and only Elektra album (EKS-7289, 1965) as "The most beautiful Renaissance ballad record I ever heard". They performed 5th at the Newport New Folks concert in 1965 (most notably Fariña's "A Swallow Song"). Carol McComb has looked in and updated me via email, noting that between 1969 and 1971, she perfomed as a duo with Mimi, performing coast-to-coast, including a performance at Carnegie Hall. From 1975-1980, fronted a band called Moonstone, releasing one album; from 1981-89 she fronted a band named the Gryphon Quintet, releasing 3 albums; there followed two solo albums (1990 & 2000), and currently she's gigging around with Keith Little "in a roots-oriented band. Kathy Larisch is an art teacher in Berkeley, CA".
Keith, Bill - aka: Brad Keith - Another Boston-born scholar, he originally played dixieland in a group named The Merry Morticians, and later went to Cambridge to study at the Harvard Business School but got sidetracked by the siren song of bluegrass music. Learning banjo from Pete Seeger's instruction manual, Keith became fascinated with Earl Scruggs' technique, and in order to understand what was going on there, he invented a way to transcribe the banjo solos (using the 1957 Flatt & Scruggs LP, Foggy Mountain Jamboree), according to the Richard Smith bio of Bill Monroe, "into standard music notation... then he created tablature to sort out the correct fingering patterns...", shortly thereafter, figuring out a way to translate a number of old fiddle tunes for banjo, and therby creating an entirely new way of playing banjo, allowing players to play far more notes by using chords at differing spots on the neck, which I cannot explain muchless comprehend. He joined forces with guitarist Jim Rooney in 1959, performing mainly in the Boston area, and leaving in 1962 to join a local D.C.-based bluegrass outfit. This didn't last long, as Keith met up with Earl Scruggs, who was impressed by his transcription of Scrugg's solos, and took him in in early 1963. Keith was almost immediately recruited by Bill Monroe, still in the thick of his life-long commitment to one-up Scruggs for leaving his band. Monroe also apparently immediately forgot, hired someone else, then promptly remembered and hired Keith anyway, moving just-hired and keenly disapointed banjoist Del McCoury over to vocals. According to von Schmidt/Rooney, Monroe promptly renamed Bill Keith as Brad Keith, "because there's just one Bill in Bill Monroe's band". I think the story is that Bill/Brad got homesick/tired of it all, and moved back to Boston, eventually replacing Mel Lyman on banjo in the Kweskin Jug Band when Lyman left in July of 1965. He stayed with the Jug Band until it disbanded in 1967. He appeared everywhere and with everyone after that, and for the next 30 years, recording with von Schmidt, David Grisman, Béela Fleck, and practically everyone else who played acoustic music and had a vowel in their name, as well as doing solo albums for Rounder Records.
Koerner, Spider John - Blues singer and 7-string guitar player from Minneapolis; occasional part of the band Koerner, Ray and Glover (with Tony Glover and Dave Ray), film fan, and hilarious surreal raconteur. He performed three times at the 1965 Newport Festival, including second at the New Folks concert on Sunday (with Dave Ray on harmonica). In addition to his three Koerner, Ray & Glover albums, he released a solo album on Elektra (EKS-7290, Spider Blues) in 1965, then, after a quiescent period, he released Running, Jumping, Standing Still (EKS-74041; named after the Richard Lester short film) in 1969 on Elektra. Done in conjunction with fellow Minneapolitan Willie Murphy and the Bumblebees, it was promoted by the label (who even issued a promo-only 45 rpm interview with Koerner & Murphy) but never realized huge sales. It has, on the other hand, enjoyed a solid critical reputation over the years. In my humble opinion, if you were only allowed to own three recordings, this should definitely be one of them (also find the single, Elektra EKM-45654, of "Friends & Lovers" c/w "Magazine Lady", since both represent different takes from the LP). Koerner went on to issue the follow-up album (again with Willie & the Bumblebees), Music Is just a Bunch of Notes as a homemade project, each album jacket hand-stamped, colored with magic-markers, sealed with masking taped and sold for $2.00 on Sweet Jane Records. He later started his own Minneapolis-based label, Red House Records, releasing his own records as well as reissuing the K, R & G albums in their original configurations.
Kweskin, Jim - (see also Kweskin Jug Band) Originally a jazz fiend from Stanford, Conn., he moved to Cambridge, MA, picked up guitar from Eric von Schmidt and began gigging at Club 47. One of the great 78 collectors of this period, he made numerous song-collecting trips throughout the U.S., finding other collectors and taping hundreds of old 78s. He played an eclectic mix of old timey, jug band, ragtime, and straight jazz tunes and contributed heavily to the revival and popularization of this music when he formed the Jug Band in 1963 from carefully selected local musicians. The Jug Band broke up in 1968 after concerts turned into verbal confrontations between Kweskin and the audience over his devotion to Mel Lyman. Kweskin settled into the Beacon Hill area of Boston, began a very short run as head of The Avatar, an underground paper devoted to Lyman, began buying up considerable amounts of real estate in Beacon Hill (then practically, if not literally, a slum) did two LPs with the Lyman Family for Reprise (the first being scheduled as a Lisa Kindred session backed by Muldaur, Kweskin, and Lyman plus various members of the Lyman Family - Kindred was rumored to be greatly surprized when it was released as the Lyman Family) then sat it out for several years (necessitated, according to von Schmidt, by having been badly beaned by a brick during a dope deal), he returned in the late 70s to record several albums for Mountain Railway, including a childrens' album. He pops up now and then.
Kweskin Jug Band - First organized around jam sessions at Club 47 headed by solo performer Jim Kweskin and attended by ambitious/fascinated/dazzled Cambridge, MA performers all hoping to swipe/borrow/learn songs from his encyclopedic mind. Forming a permanent group became a distinct possibility when Kweskin performed with blues singer/guitarist Geoff Muldaur (despite, according to von Schmidt & Rooney's book, Baby, Let Me Follow You Down, Kweskin's first impression of him as "straight, uptight and surly", but also finding him tremendously sympatico musically) in February, 1963 at the Community Church in Boston. Shortly thereafter, Vanguard records' head Maynard Soloman offered Kweskin and his current group a contract, which Kweskin declined, suggesting instead that Soloman give him three months to come up with an ideal band, which Soloman agreed to. The line up was then fixed on David Simon (aka Norman Greenbaum and about 15 other names) on vocals, kazoo and harmonica, Fritz Richmond (the house bass player at Club 47) on jug and washtub bass, Geoff Muldaur on washboard, guitar and vocals, Bob Siggins on banjo (a Charles River Valley Boys permanent member who agreed to join only long enough to record), and Kweskin on guitar. This configuration of the band recorded an LP for Vanguard which was released in October of '63. Local musician Mel Lyman replaced Siggins on banjo (and later David Simon on harmonica), and Maria Muldaur (orignally D'Amato - vocals, fiddle) was added to the group on their second album (April, '65).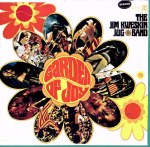 Lyman left after a memorable weekend at the 1965 Newport Festival when Maria Muldaur unknowingly cut off his lengthy harmonica solo during one number. He was replaced by Bill Keith (another New Englander and virtuoso banjoist who'd already played as a duet with Jim Rooney, then with Bill Monroe by that point) on their 3rd Lp (See Reverse Side For Title, released 12/66). After Newport, the Jug Band joined the rest of the world by going electric, but rather than shifting over to electric instruments, they went the fun route, attaching pick-ups and contact mikes to their instruments, all the way down to the kazoo (reviewed, following an appearance at the Main Point in Bryn Mawr, PA, as the "totally electric Jim Kweskin Jug Band"). By the third album, Richard Greene (veteran of the Greenbriar Boys and Bill Monroe) had replaced Maria Muldaur's fiddle work (Maria would continue on vocals and percussion), and this version of the band made a second appearance at Newport in 1966, awash in a light show. The Band started falling apart as Kweskin's devotion grew to what he saw as Mel Lyman's divinity, but a fourth album and a single were released by the band on Reprise in 1967. According to reports, Muldaur & Co., enjoying the group's musical level and with every confidence in the group's ability to continue without Kweskin made a plea to continue as The Jug Band, but this idea was nixed by Kweskin and the group sadly went their separate ways.
Leonda - Not at all well-known blues-oriented folk singer, she was wonderful to see perform. I believe she had an album out in the later 60s on Columbia. She was the opening act for the Fariñas at the Main Point in Bryn Mawr, PA, the snowy weekend they played there in February 1966.
Lightfoot, Gordon - Canadian singer-songwriter, who made his American festival debut at the Newport Folk Festival in 1965, performing with the Fariñas and Dylan at the Contemporary Song Workshop on Saturday, and again with the Fariñas on Sunday at the New Folks concert, going on right before them. His first album came out a year later, curiously enough, on United Artists (see if you can name another folk artist on United Artists besides the Highwaymen). Managed by Albert Grossman and produced by Grossman's assistant, John Court, Lightfoot authored such folk classics as "For Lovin' Me", "Early Mornin' Rain", and "Did She Mention My Name" before he moved on to Reprise Records in 1970 and released Sit Down Young Stranger, a recording quickly reissued as If You Could Read My Mind when that song took over the airwaves, as did its author for a large chunk of the 70s singer/songwriter revival.
Muldaur, Geoffrey - A Boston U. student from Princeton, NJ and later roomate of Joe Boyd, Muldaur had grown up being buffeted about the head and shoulders by a jazz-breathing older brother who required the younger brother to join in his addiction to early jazz, according to the liner notes to the 1st Kweskin album. A record collector and walking musical enyclopedia, Muldaur was, according to himself, the one who went out basement crawling with Warwick Boyd (older brother of Joe), and always got the stack of records containing an endless supply of Patti Page and Ames Brothers 78s, while Warwick always got the stacks with Blind Willie Johnson and Memphis Jug Band. A solo blues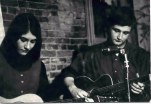 guitarist (and writer of "Mole's Moan" for Tom Rush), he met up with Kweskin in early 1963 in Cambridge, MA and became an original member of the Jug Band, while also recording a solo album on Prestige. Muldaur met and married Maria D'Amato (ex- of the not-so-rival Even Dozen Jug Band) around 1964-65, who joined the Kweskin outfit about this time, Geoffrey appeared on scores of albums (for Mitch Greenhill and Eric von Schmidt for starters), while the two of them could pop up on stage at Club 47 as a duo at almost any time. Staying with Kweskin until the group collapsed in 1967, he and Maria joined forces and put out two LPs on Reprise, following which they went their separate ways, and Geoff did five solo albums (mostly with guitarist Amos Garret, with whom he toured) in the mid-to-late 70s, following which he says, "I retired for 18 years". He re-emerged slowly in the late 90s in John Sebastian's J Band (reuniting with Fritz Richmond) before going back on the road as a solo and issuing two albums, (Secret Handshake, 1998 ; Password, 2000) on High Tone. (photo : w/ Mimi at Club 47, Feb. 1966 ; photo by Dick Waterman)
Muldaur, Maria (D'Amato) - New York City-born singer who started out singing do-wop harmonies in junior high school first with The Cameos, then with The Cashmeres in high school, hanging around the Brill Building looking for a break (according to the von Schmidt/Rooney book her mother vetoed a recording contract, believing "They're going to make a white slave out of you!"), latching onto the folk scene and eventually being recruited for the studio-bred Even Dozen Jug Band (along with John Sebastian, Stefan Grossman, Josh Rifkin, David Grisman, Steve Katz and other Village irregulars), Elektra's attempt to catch some of Vanguard's Kweskin-led fire. Attending an Elektra office party with John Sebastian as her date, she immediately gravitated to Geoff Muldaur (in town with the Jug Band) and, in one of the more legendary gastric acts of the folk years, managed to get extremely drunk and throw up in his lap. Moved to Cambridge shortly after this first meeting and shortly thereafter moving in with Geoff Muldaur, and eventually becoming part of the Kweskin Jug Band, where she played percussion and fiddle for about two years. During this time, she and husband Geoff also had a recurring solo act, which lasted them through the early 70s and two LPs for Reprise, following which, Maria became something of a big star following her first LP and its single, Midnight at the Oasis (to which she always added "...And all of the Arabs were eating their dates" at concerts). She did several solo albums for Reprise through the late 70s, followed by numerous jazz, gospel and blues albums for the next twenty years or so, including the glowingly reviewed Richland Woman Blues (2001).
Reagon, Bernice Johnson - Originally from Atlanta, she first came to light singing with the Freedom Singers, moving to a solo career by the mid-60s, and performing twice at Newport in 1965 (she joined the chorus for the Fariñas last song at the New Folks Concert, and then performed solo right after). She put out a solo album for Folkways in 1965, was marketing her own recordings by the early 70s and, about 1973, founded the vocal group Sweet Honey In The Rock.
Richmond, Fritz - Another Cambridge native, he started out on piano and glee club, but transferred his musical ambitions to bass in the school orchestra, mutating to washtub bass about 1954 which he played in various folk settings, before being swept away by the Army for a few years. He went back to Cambridge upon his release and got back into the folk scene, in 1961 sitting in with the Charles River Valley Boys and becoming a charter member shortly thereafter, recording with them for Prestige, as well as recording with the Mother Bay State Entertainers for a local Boston label. At $5 a night, in 1962, he also became the house bass-player at the Club 47, backing up any and every one. He was starving away in Berkeley, CA when the call came to join the Kweskin Jug Band in 1963, where he stayed until the band broke up in 1968. At a loss for direction after that, he was saved when Elektra Records offered him a job as a musical engineer at their new LA recording studio, where he stayed for a number of years. During this time he also did some producing.
Siggins, Bob - Another Harvard grad, Siggins was a banjo player from Grand Island, Nebraska who'd learned to play by taking a summer job for the state agricultural department that didn't require much labor and provided endless breaktimes (if it's like my summer as a maintenance man at a state college, most work orders were along the lines of "take the mower and do the trim around the infirmary and we'll see you in four hours. Put the mower under the shrubs".) Siggins founded the Charles River Valley Boys in 1960 with Ethan Signer and Eric Sackheim, and along with this encouraged his disposition towards marine biology by having his hands constantly in dishwater, first at Tulla's, and later at Tommy's Lunch in Cambridge, where he expanded into hash-slinging. He was also instrumental in the local folk radio scene, producing "Balladeers" on WHRB. In October of 1960, he married Betsy Minot (a former waitress at the Golden Vanity club and later performer booker at Club 47), and moved to Rome, where he did street performing. Siggins eventually returned to perform with the Charles River Valley Boys, recording with them in June, 1962 for Prestige. Another album was recorded for Prestige in 1964, and between these, Siggins was enlisted temporarily (by his own choosing) for the Kweskin Jug Band's first album on Vanguard. In 1966, the Charles River Valley Boys recorded Beatle Country for Elektra, a well-remembered collection of Beatles tunes done in the bluegrass style. Never one to slack off academically, Siggins apparently got a PhD in Molecular Neurophysiology at Boston U. before he and Betsy moved to DC, where he got a job with the Smithsonian, gigging weekends in the early 70s in local bars on steel guitar with the Liz Meyer Band. God knows where he's been since then, although he's on the Massachusetts Association of Science Teachers board, and Betsy, after doing anti-hunger work in NYC in the mid-90s, is currently executive director of Club Passim, the former gallery/bookstore and now folk club living in the old Club 47 building.
Sky, Patrick - A great singer/songwriter from Liveoak Gardens, Georgia, his appearances in 1965 were his first at Newport. He appeared at Saturday's Contemporary Songs workshop and again at Sunday's New Folks concert as the 8th performer. Another performer from the Vanguard stable, he released his first album Patrick Sky in the summer of 1965 and followed this with a three song contribution to Elektra's Singer Songwriter Project and his second Vanguard release, A Harvest of Gentle Clang, in September of 1966. Some of his songs were soon to become staples of the Basic Folksinger Kit, particularly "Many a Mile" and "Separation Blues". Fellow Cree Indian Buffy Sainte-Marie was to champion Sky and his songs, while both spotlighted the plight of Native Americans. Sky's interest in folk music was almost academic in nature, although his sense of humor was more directly traceable to W.C. Fields. He possessed a frequently-mined Rabelaisian vein, but never quite had the interest to push his career in a commercially successful direction. Far more interested in ancient Celtic music and instruments than tap-dancing in Vegas, his recording career wandered from Vanguard to MGM (two albums in the late 60s), to Verve/Forecast (two, in 1968 & 1969), then a gap until 1973's notorious Songs That Made America Famous on his own Adelphi label, and one on Leviathan in 1975, Two Steps Forward and One Step Back. As far as I can tell, his last recording, for the mostly Celtic music Shanachie Records, was Through a Window in 1985, although he has produced recordings of other traditional musicians and even wrote & produced a country music play in the mid 1980's, The Dixie Dewdrop, on the life of former mule wagoner and early Grand Ole Opry star Uncle Dave Macon. Sky, who now lives in Chapel Hill, NC, basically retired to study Celtic harp and Irish uilleann pipes. He still does occasional concerts and old-time music festivals, particularly in the Southeast.
Spoelstra, Mark - A very early amateur of Joan Baez (in their California teen years, pre-fame), Spoelstra, a guitarist (12 string) and songwriter, arrived in NYC in the fall of 1959, and was supported by Sonny Terry and Brownie McGhee, whom he'd known in California. John Cohen of the New Lost City Ramblers landed him a contract at Folkways Records where Mark released two albums (and, he swears, a single) of traditional and blues songs. His career was interrupted by a two-year stint at alternative service back in California, with occasional (and officially approved) concerts. He moved to Cambridge and began doing original songs, leading to two LPs for Elektra - the first, Five and Twenty Questions (EKS-7283), featured not only original songs, but liner notes by Dick Fariña. The second, State of Mind (EKS-7307), was released the following year. He also released an album on Fantasy entitled This House in the 70s. He performed twice at the 1965 Newport Festival, once at the Broadside workshop, and again at New Folks on Sunday.
Thorndyke Pickledish Choir - Someone who sang "Walter Wart, parts 1 and 2", which got played on folk music radio shows and nowhere else. It was released as a single in 1966 by A&M Records (single no. 828), and featured someone sounding remarkably like Kermit the Frog, singing such golden lines as "Oh Walter Wart, we know you got soul, who's that swimming in the punch bowl? It's far out Walter Wart, the Freaky Frog..." He was not known to have performed at Newport in 1965, although a backstroke across the stage should not be ruled out.
© 2002 by Greg Pennell