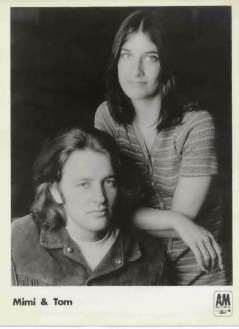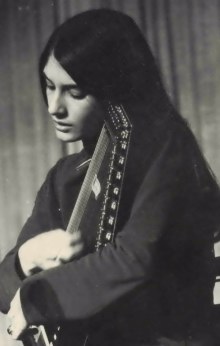 At right, Mimi plays autoharp at the Club 47 in Cambridge, Massachusetts, Feb. 1966 (photo by Dick Waterman)
---
After being semi-retired for a period (although it's rumored she appeared with Joan at Newport, 1966), Mimi toured regularly, first with Carol McComb (late of Kathy & Carol) in the late 60s, early 70s. In 1970, she wrote and recorded a song for the film Fools, but this was to be her only soundtrack work, and her last solo recording for almost 15 years. In 1971, she recorded a well-received album with singer/songwriter Tom Jans for A&M Records, self-penning four and co-writing three songs; the duo toured but plans for a second album never materialized. Her recording career was put on hold in 1974 when she founded and became executive director of Bread and Roses, a nonprofit, charitable organization dedicated to bringing live music, according to one of their fund-raising albums, "to people in limited environments ... Hospitals, mental health facilities, convalescent homes for the aged, and prisons; all house people who desperately need the joy, diversion, and positive human contact that live entertainment can provide." Mimi and her sister Joan occasionally performed for Bread and Roses as the Kitchen Sisters, performing in cheesy blond wigs. In 1981, Mimi submitted a five song cassette to the Library of Congress for copyrighting, featuring songs co-authored by Mimi and Banana Levinger ("Big Party", "Mister Rudy") David Amram ("Dandy Lion"), Gary Goodrow ("Of Love") and Bill Amatneek ("Feeling Left Behind"), of which, only "Big Party" was ever rerecorded and released commercially.
In 1986, she returned to the recording studio for Rounder Records' subsidiary Philo Records, releasing Solo.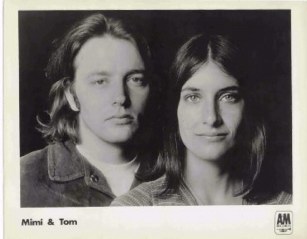 Partial solo discography
1967 - Save the Children : Songs from the hearts of women : Women Strike For Peace Records / W-001 (Mimi sings "Legend of a Girl Child Linda" w/ Joan Baez and Judy Collins, on a fundraising album for the Philadelphia-based anti-war group Women Strike For Peace, along with Barbara Dane, Janis Ian, Vivica Lindfors, Odetta, the Pennywhistlers, Buffy Sainte-Marie, Hedy West, and the always happy to help, Malvina Reynolds)
1970 - Fools (soundtrack) - Reprise / RS-6429 (writes and sings "If You Love" for the film, sung on the soundtrack with Katherine Ross)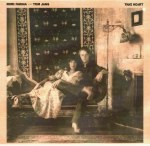 1971 - Take Heart - A&M / SP-4310 (recording with partner Tom Jans and releasing two singles, the second of which was recorded as a prelude to their second LP)
1972 - A&M-1302 : Letter to Jesus / Madman (single)
A&M-1339 : Good God, I'm Feeling Fine / Reach Out (single)
1972 - Big Sur Festival - Columbia / KC-31138 (billed, but actually singing in a cast of thousands on "Me and Bobby McGee)
1973 - Where Are You Now, My Son? - A&M Records / SP-4390 - (guitar and vocals here and there for her sister Joan's album).
1979 - Bread and Roses : Festival of Acoustic Music - Greek Theater, U.C. Berkeley - Fantasy Records / F-79009 (although Mimi didn't bill herself as a performer on this LP, she conceived it, organized it, got a huge number of her friends to contribute their time and music, as well as headed Bread & Roses. The LP features Malvina Reynolds, Maria Muldaur, Dan Hicks, Buffy Sainte-Marie, Country Joe McDonald, Joan Baez, John Herald, Pete Seeger, Richie Havens, the Persuasions, Jesse Colin Young, Dave Van Ronk, Hoyt Axton, Arlo
Guthrie, Toni Brown & Terry Garthwaite (aka: Joy of Cooking), Boys of the Lough, Mickey Newbury, Tom Paxton, Jackson Browne and Ramblin' Jack Elliott - a double album, the inner fold is filled with photos of a delighted and grinning Mimi.
1980 - Bread and Roses : The Bread and Roses Festival of Music : Greek Theatre - U.C. Berkeley - Fantasy Records / F-79011 (Mimi and Joan perform "Bread and Roses",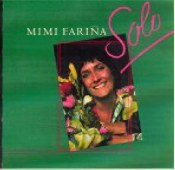 recorded live October 5, 6, and 7, 1979 on a bill with the Chambers Brothers, Leah Kunkel, David Crosby & Graham Nash, Hoyt Axton, Pete Seeger, The Roches, Chick Corea, Paul Siebel, Maria Muldaur, Norton Buffalo, and John Hammond)
1985 - Solo - Philo / 1102 - (and the only one of her post-Richard recordings ever made available on CD)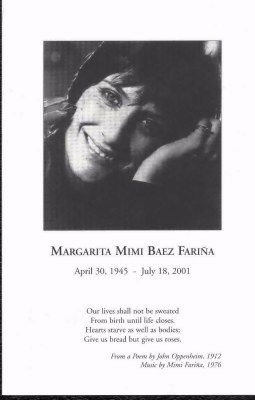 At right - the cover to the "Memorial celebration of the life of Mimi Fariña", August 7th, 2001 at Grace Cathedral in San Francisco. (courtesy of Bob Durand)