The Fariña Files
Home | Time Line | Cast of characters | This one's for Mimi | The Books (and film) - a guide | Newport Folk Festival 1965 | Photos and Sources | Annotated Discography | Favorite Links | Contact Me
Time Line
1937
8 March - Richard George Farina born in Flatbush, Brooklyn to Richard Farina, Sr. (the former Liborio Ricardo Fariñas, formerly of Matanzas province, Cuba; he dropped the "s" and the "~" when he came to the US in 1925) and the former Theresa Crozier (from County Tyrone, Northern Ireland).
1945
The family lives in a fairly modern five room apartment at 353 Linden Blvd. in Brooklyn, and he attends Holy Cross Catholic Elementary School. The asthmatic and highly allergic eight-year old Dick travels to Cuba with his mother, on the sickly kid's doctor's advice, to visit his father's relatives.
30 April - Margarita Mimi Baez born to Albert and Joan Baez in Menlo Park, California; she is named after her father's sister.
1950
In the Fall, Dick attends Brooklyn High School of Technology; his father, having a technological background convinces Dick that the future is not yet in plastics, but in engineering.
1954
Late Spring - Joan & Mimi Baez's aunt takes them to a Pete Seeger concert for the California Democratic Party; it becomes an electric moment for Joan, and both girls announce they want to be folk singers. Nine year old Mimi forgets. Thirteen year-old Joan doesn't. Dick gets accepted into the Electrical Engineering program at Cornell University in Ithaca, New York.
1956
December - Cornell sophomore Richard Farina is nabbed by the campus cops when he grabs a cross-eyed Mary from a manger scene and tests her wings by heaving her over Triphammer Bridge into the gorge below. This, and several more run-ins after, marks him as a troublemaker and an easy target when the campus cops come looking for The Usual Suspects to nab as ringleaders two years later during campus disturbances.
1957
December - Farina answers final in chemical engineering class, according to Hajdu, "with a free verse poem about why he should not be studying chemical engineering." Dunno what grade he got, but the next semester he was granted entry into the creative writing program.
1958
March - Farina wins Cornell's undergrad short-story award for "With a copy of Dylan under my arm", which is published in the Cornell Writer (with two poems).
22 May - Co-ed parties barred off-campus at Cornell (largely seen as a gesture against rising tide of non-conformity and aimed at allowing all students to live an upright, moral life, by force if necessary), resulting in on-campus demonstrations led by J. Kirk Sale, a senior and editor of the campus newspaper. Also Farina's roomate at the time.
25 May - NYT reports "Richard Farina, a junior, of 353 Linden Boulevard, Brooklyn", J. Kirk Sale, Robert M. Perry, and David N. Seidler have been suspended ("Cornell drops 4 after new riots"), "on charges of having incited students to riot."
27 May - Cornell riot "leaders" apologise
1 June - All five (I thought it was only four?) resume classes, according to the NYT.
Summer - Farina rents apartment on Linden Ave. in Ithaca with C. Michael Curtis, filled with furniture poached from various public rooms around the college. By the fall, fellow student Thomas Pynchon joins them. According to several sources, Dick does not graduate, and is later reported to have taken classes along with Carolyn Hester, at the University of Virginia in the early '60s.
Summer - Baez family moves from Palo Alto, CA to Belmont, Massachusetts, a suburb of Boston, when Albert Baez is hired by the Massachusetts Institute of Technology.
Fall - Mimi goes to Belmont High School.
1959
Spring - Mimi's looks begin to attract Joan's waiting room full of hopefuls; Mimi and Joan start performing together.
11 July - Joan goes to the first Newport Folk Festival hoping to get invited on stage (it could happen in those days), and finally gets the come-hither from Bob Gibson (who tours with Mimi in the late 70s). She is a gold-edged success. It is a rainy day.
1960
June - Dick meets folksinger Carolyn Hester at Gerde's Folk City in New York and is immediately intent on marrying her. Two weeks later, he succeeds. They are married in St.Ambrose Chapel at the Cathedral of St, John the Divine (C. Michael Curtis is best man, Beth Sucklow is maid of honor), and have a drunken reception at NYT music critic Robert Shelton's apartment.
1961
Spring - By this time, Dick is still living in NYC and is about 100 pages into the writing of Been Down So Long. Carolyn shows him how to play her dulcimer, and very shortly after, he starts popping up on stage in wool hat and fisherman's outfit during some of Carolyn's gigs, doing traditional songs acappella.
10 April - In NYC, Bob Dylan introduces himself to the visiting Baez sisters after Hoot Night at Gerde's; he sings them "Song to Woody", tells Joan it'd be okay if she wanted to record it and then asks the surprized 16 year-old Mimi out. Joan forbids her to talk to Dylan "ever again."
May - Dick and Carolyn stay with Dick's mother, now remarried as Teresa O'Sullivan, in Brooklyn. Carolyn is signed to Columbia by John Hammond Sr. through the intervention of her manager, Charles Rothschild and Albert Grossman. Farina has a fit about Grossman's involvement, assumes Grossman, whom he considers too pushy, has ulterior motives (unlike Dick, whose motives in all things were pure).
1962
January - Assuming that, if he goes away, he can come back as somebody else, Dick tells Carolyn he's going to Europe. He sails from NY on the United States (his father pays - at this point, Fariña's income was based on what the literary journals paid for his poems and what Carolyn made). Carolyn stays in Brooklyn with Dick's mother, finishes her gigs, then follows two weeks later. Fariña, who'd been sporting a moustache up to this point in order to look more European, shaves it off in Europe, according to Hajdu, in order to look more American.
March - In London, Dick gives his first solo performance at Cecil Sharpe House. Since the bill was supposed to be Carolyn as headliner plus Clay Jackson and Peter Stanley, she quite rightly decides Fariña is basically, as Louis Armstrong used to put it, "fucking with (her) hustle", by co-billing himself as an equal. In order to make peace when the audience agrees with them as equals, Dick suggests a trip to Paris...
April - The trip to Paris does far more for Dick than Carolyn, as it is on this trip that a mid-month communal visit to Chartres Cathedral with his fellow musical ex-pats, finds Dick introduced to the 16 year-old Mimi Baez. The trip includes John Cooke (and his Volvo), Carolyn, Dick, Alex Campbell (a Scottish folksinger friend of them all), Mimi and her boyfriend, Todd Stuart. Dick and Mimi flirt. Carolyn steams. After another one of Dick's unsolicited critiques of Carolyn's appearance, she threatens to shoot him with his own gun. Dick is a little too agreeable with that fate, and Carolyn backs off. Divorce seems a better solution. Shortly afterwards, Carolyn flies back to the US to look for a lawyer and Dick goes back to London, where the 25 year old strikes up a prodigious correspondence with the just-turned-17 Mimi. This continues for the next year and a half.
September 3rd-8th - Mimi convinces her family to send her to a Quaker camp in Edinburgh as a pre-arranged chance to meet up with Dick without her family knowing. Dick and Carolyn Hester (who returns to the marriage for this previously booked gig, figuring to give things one last try) perform at Edinburgh International Festival, Edinburgh, Scotland; listed as "Plain Song and All That Jazz", hosted by Rory and Alex McEwen, it featured the Al Fairweather-Sandy Brown All-Stars and George Melly, Carolyn Hester and Dick Farina (I'm assuming they meant the untilda-ed "n", since they had an international bevy of performers and fearlessly used just about every diacritic in the book for their listed roster; I'm sure could have scared up an ñ had Dick insisted), "and guest stars." This time period also signals the end of Dick and Carolyn's marriage, but I believe it was about this time that Farina officially became Fariña. Carolyn and Dick are together long enough to record a four-song EP with Alex and Rory McEwan in Edinburgh. And Carolyn goes back to the states, having decided a Mexican divorce would be much quicker. Fariña returns to Paris.
31 December - After months of letters from Fariña trying to lure him to London, Eric Von Schmidt, his marriage crumbling and no place to paint, answers the siren song, jumps a plane to London and stays with Dick at the home of painter Rory McKuen.
1963
January - Fariña's novel is now over 200 pages long. He claims to be writing a film script for Dylan - a western - but this never appears. He is also performing publicly on the dulcimer. Dick and Carolyn give up and finally get that Mexican D-I-V-O-R-C-E.
1 January - Fariña comes to London from Paris.
14 January - Fariña, Von Schmidt and Ethan Signer begin recording Dick Fariña & Eric Von Schmidt, in the basement of Dobell's Jazz Record Shop in London, to be released in the UK only by Folklore Records (see also: Discography); joined late by Bob Dylan, they all go out, get drunk and invade the stage of the Troubador. According to noted Dylanologist Ian Woodward, in addition to Fariña's "Xmas Island", "Riddle Song" (an adaptation), "London Waltz", and "Old Joe's Dulcimer", all of which appeared on the LP, his song "Almond Joy" (which wouldn't appear until 1968), was also an outtake and possibly copyrighted at the time (although no 1963 record exists in the Library of Congress copyrights).
15 January - Fariña and Von Schmidt are joined in the recording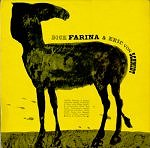 studio, and on time, by Bob Dylan (who will appear on the LP as Blind Boy Grunt) and the record is finished. That night they adjourn to Bunjie's Coffee House.
16 January - Both Von Schmidt and Dylan fly back to the states.
Mid-January - Fariña returns to Paris, staying with friend Tom Costner.
Spring - Fariña lives in Paris full time, near to Mimi and her family. He writes nonstop. He scripts fairy tale plays for release as kids' records, also acting in some of them; Rumpelstiltskin, Alice in Wonderland (for which Dick convinces Joan, Sr., Mimi's mother, to act as the Queen of Hearts to Dick's White Rabbit), Davy Crockett (on which he also plays dulcimer) and Hansel & Gretel are released in the US on United Artists in the Tale Spinners For Children series.
March - After months of trying to gain approval, Dick formally asks Albert Baez for permission to marry Mimi. Flattered and impressed with the upstart's manners (and knowing Mimi's 18th birthday was only weeks away), permission is granted. A summer wedding in Carmel, California is planned. Just after Mimi's 18th birthday.
April - Somewhere about the middle of the month, although it makes sense closer to the end of the month, which would be Mimi's 18th birthday (the 30th), Mimi Baez and Richard Fariña are secretly married at town hall in Paris.
4 April - Joan and her older sister Pauline work together on a song, "Tears In My Eyes", with words and music contributed by both and the copyright is registered on this date. Later this same year, Pauline would co-write two songs with her brother-in-law, Dick ("A Song For Some of Us", and "Pack Up Your Sorrows"), which would be copyrighted early in 1964.
May - Dick Fariña and Eric von Schmidt is released on Folkways Records in the UK.
June - The dyslexic Mimi graduates from high school in Paris, thanks in part, according to Hajdu, to Dick - who wrote her book reports.
21 June - Dick and Mimi set sail for NYC on the France. It takes five days. They live with Dick's father and step-mother for a short time in Brooklyn.
August - The Fariñas drive across country and land in Carmel Highlands, California, where Joan lives. Mimi stays with Joan (who'd just railroaded in with Betsy Siggins) and Dick sleeps in a one-room cabin next door. Legend has it that Albert Baez didn't leave his room for several days before the wedding, and that a large number of those assembled would have been happier with a lynching.
21 August - Fariña, Joan Baez, her friend and assistant, Kim Chappell, Betsy Siggins, Pynchon and several others head for the Monterey County Fair for some rest and relaxation. Mimi stays behind with what would later turn out to be appendicitis.
24 August - The wedding takes place at the Baez family's rented house in nearby Portola Valley. Thomas Pynchon is best man. The Fariñas perform together in public for the first time, playing "Old blue". Shortly afterward, the Fariñas, broke and with the better part of the Baez family not speaking to them, start playing music seriously together to while away the time Dick doesn't spend writing his novel. They move into the cabin where Dick had stayed, Brett Weston's dinky converted photo studio, next door to Joan. About this time, in an effort to win over Joan, Dick suggests they do a book together, combining his "Little nothing poems" with her drawings to illustrate them. Efforts are made on both sides, but little comes of it.
12 October - The Fariñas attend Joan's Hollywood Bowl concert, driving down in Joan's XKE with Dylan. Dick suggests to Life magazine that he's Dylan's designated writer for a proposed photo essay; the idea sinks in November when Time magazine outs Bob Dylan as Robert Zimmerman of Hibbing, Minnesota, and Dylan sours considerably on the creative powers of the press.
November - Hajdu quotes NY Times music critic Robert Shelton as saying Fariña told him at this time that he'd written "a carload" of songs. Joan, thinking his stuff not half-bad, records 5 songs as demos for Maynard Solomon (head of Vanguard), who signs Dick to a songwriting contract for Ryerson Music Publishers (which is later to prove the undoing of the Fariñas' offer to sign with Elektra).
1964
January - Joan adds Dick's songs "Birmingham Sunday" and "Pack Up Your Sorrows" to her concert set. At this point, Dick copyrights two songs, "The falcon" and "A Song For Some of Us", an unreleased song co-written with Mimi's oldest sister. Pauline Marden.
12 February - Copyrights come through for three more songs: "Birmingham Sunday", the unreleased "Sombre Winds", and "The Quiet Joys of Brotherhood" (later described as one of Mimi's favorites). All are categorized as "new words set to traditional music".
23 February - Joan and Fariña travel to Berkeley where they meet up with Dylan. Dick plays his songs for Dylan.
27 April - The last of Dick's fall '63 "carload of songs" finally makes its way through the copyright process: "The Ballad of Three Nasty Lovers" and "A Sailor's Song" are new words to old melodies, "Lemonade Lady", which is first to have words and music by Fariña, and "Pack Up Your Sorrows" credited to Fariña and sister-in-law Pauline Marden, with both listed as co-authors of the words and music.
June - Dick and Mimi appear at the first Big Sur Festival, begging off an encore because they didn't know any other songs. Jac Holzman, head of Elektra Records attends and immediately offers to sign them up. It gets put on hold so Dick can check with Vanguard (to whom he's contracted as a songwriter) and Mimi can run it past Joan.
June - Fariña, never a good driver, dumps Mark Spoelstra's motorcycle at a slow speed, while trying to make a left onto a small road. While he isn't hurt, it still gives shivers in retrospect. Summer - Dick writes, Mimi gives dance lessons, both practice their songs together, while Mimi also learns autoharp. They also move to the Carmel Highlands, renting another somewhat larger cabin nearer to Joan. They also get their German Shepherd, Lush, from the local animal shelter during this summer. Joan suggests they're good enough to record. A demo is recorded shortly after Big Sur and sent off to Vanguard, who accept it, unbeknownst to Jac Holzman at Elektra, who's still waiting for an answer. Joan suggests Manny Greenhill, her manager, for the Fariñas. Secretly, Dick now prefers Albert Grossman (having obviously overcome his 1962 objections to Grossman's possible managing of Carolyn Hester). Now, it's Mimi who hates Grossman. (And it's quite possible that Dick made a deal with Grossman and secretly signed a publishing agreement at this point with Witmark Publishing, a Grossman-related outfit connected to Warner Brothers, and home to his clients, Peter, Paul & Mary).
23-26 July - Joan performs at Newport Folk Festival, accompanied by the non-performing Mimi. Dick drives across country with his buddy Alfredo Dopico to meet up with Mimi and Joan in Manhattan. Joan closes the opening night concert with Dick's "Birmingham Sunday".
July-August - Baez, Dylan and the Fariñas house-sit for Albert Grossman in Woodstock, NY at Dylan's invitation. They stay for a month, and Dylan and Fariña work separately but compare notes now and then. Only when Dylan AND Joan are both gone, do Dick and Mimi practice their songs.
September - Their first album, Celebrations for a Grey Day, is recorded in two days at Olmstead Studios in Manhattan. They record almost 16 songs for the album, rejecting only "Almond Joy", "Joy 'Round My Brain" and "Downtown", all of which will later be released either as singles or on the posthumous Memories (1968).
26 September - Club 47 in Cambridge, Mass. with Mitch Greenhill as supporting act; the date was successful enough to earn Dick and Mimi a monthly Monday night slot.
late September - They decide to move to Cambridge, Massachusetts from the Carmel Highlands, where they will live on the Vanguard advance and Dick's songwriting income from his new contract with Witmark Publishing. Once set up in Cambridge, Dick goes back to writing and Mimi goes to the Boston Conservatory to study dance. Dick writes to von Schmidt that herds of people are still shunning them, refusing to speak to either Dick or Mimi out of some odd loyalty to the Baez family (of which Mimi was still a member, so...). The policy enrages Fariña friends like Maria Muldaur for life.
19 October - 1st batch of copyrights come through for the completed Celebrations album, including several not included in the finished LP: "Almond Joy", "Another Country", "Reno, Nevada", "Joy 'Round My Brain", "Good King Jubilee" (working title for the album's title track), and "Downtown". "A Swallow Song" was also among those registered at this time, though it would not be released until their second album, some seven months later. Missing in action are the copyrights for "V.", "Dog Blue", and "Tuileries", as well as any notation of the change from "Good King Jubilee" to "Celebrations For a grey Day" (although this could be explained away by Fariña already owning copyright on this title through his 1961 poem -copyrighted 14 February, 1961-, "Celebration For a Grey Day").
1965
January - Fariñas are still living in Cambridge; their first album has been recorded and is being mixed and prepared for a March release. Dick Waterman remembers hanging out with Dick at this point, sitting up 'til all hours, talking and eating donuts. He also recalls Dick and Mimi doing a concert at an all-girls school somewhere in New England, where Dick was expressly forbidden to sing a song he'd written about a chastity belt (which is probably the same one he'd been doing off and on since 1963) - naturally, the target was too wide for Dick to miss, so the song was, of course, sung; the school's administrators are shocked... and stunned... Dick is extremely happy.
25 January - More copyrights are registered: "Michael, Andrew, and James" (from the 1st album), "Raven girl" (to be recorded for their next album), and "One-way ticket" (from the first album".
30 March-mid-April - Mimi and Richard arrived in Manhatten to record two songs with Judy Collins, staying in her Upper West Side apartment. Dick gets his book, Been Down So Long It Looks Like Up To Me signed with Random House, and receives a $5400 advance (in three installments). Their album, Celebrations For a grey Day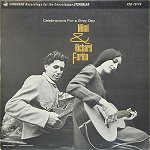 is released. Dick and Mimi are said to be working on a one act play, according to Hajdu, to be produced in Cambridge by the image Theatre Workshop (this could be the same play noted in the short bio on Celebrations, titled The Shelter, which by the 1990s, not even Mimi could locate.)
30 April - Mimi's 20th birthday; they celebrate at the Cafe Expresso in Bearsville, NY with Joan Baez, Bob Dylan, Dick's friend Alfredo Dopico, Dylan's friend and road manager Victor Maimudes and various other compadres. Dylan decides to put Alfredo in his verbal sights and after a few minutes, a livid Alfredo stomps off, followed by an apologetic Dick, and to fill in the time, Dylan then goes after Joan, who departs in tears leaving Bob a happy and successful practitioner of his particular craft until an equally livid and unamused Mimi lights into Dylan, grabbing a handful of hair and pulling his head back until the tears come rolling down. She suggests that Dylan should find his amusements elsewhere in future, a counsel he wisely keeps for about a week, when he wisely puts the Atlantic Ocean between himself and Mimi before starting up his verbal sporting event again with his sidekick Bob Neuwirth on his British tour, as documented in Don't Look Back.
1 May - After taking the NYC-bound Joan to the train station in Poughkeepsie, Dick and Mimi head south and meet up with photographer Dan Kramer in the town of Kingston, NY, for the photo session that would yield the cover of their second Vanguard album, Reflections in a Crystal Wind, and the photos illustrating The Richard Fariña Songbook.
11 May - Joan Baez and Kim Chappell co-copyright an early version of "All the World Has Gone By", with words by Kim and music by Joan. Dick will later add, subtract or juggle words and the song will be recopyrighted by Mimi on 19 November, 1968.
2 June - Club date, New Gate of Cleve in Toronto. Six people show.
5 July - That month's Monday night spot for them at Club 47 in Cambridge.
22 July - Arrive in Newport, Rhode Island with various Baezes, for that evening's opening of the 1965 Newport Folk Festival. Stay at the Hotel Viking, the hotel traditonally used for festival performers.
23 July - With no performances scheduled, the Fariñas wander the grounds and try some of the rides.
24 July - Fariñas perform twice - at the Contemporary Song Workshop and the Dulcimer Workshop, performing nine songs.
25 July - Scheduled to perform at that afternoon's New Folks concert, the Fariñas come on next to last, just in time to have their audience swamped by a sudden thunderstorm. The audience seems happy with the arrangement and stays, as the Fariñas do their best to reward the show of loyalty. That night, both join in the closing sing-along. Still glowing from their afternoon success, Dick puts his victory over both fenders and drives his imaginary car back to Cambridge.
August - They return to Carmel at Joan's invitation, living in a small house on Mt. Devon Dr., to help out with her Institute For the Study of Non-Violence; Dick doing the cooking and Mimi teaching dance. Dick and Joan spend numerous evenings dazzled by the array of paranoid ravings over the nature of the Institute at local Zoning Commission meetings.
24 September - Perform at Carnegie Hall, NYC in "Sing-In For Peace In Vietnam", the invitation being wangled for them by Joan Baez.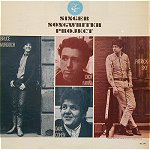 September/October - Dick and Mimi record three songs for an Elektra "Project" album, The Singer Songwriter Project ("Birmingham Sunday", "House un-American blues activity dream", and "Bold marauder" - the first was Dick's song and had been part of their set list since they started, the other two would be rerecorded shortly for the second Vanguard album). Though both Dick and Mimi play, it's billed as a solo effort.
November - Release date of the Fariñas' second LP,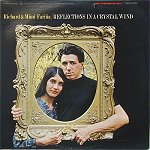 Reflections in a Crystal Wind, although some early pressings will have "Dec.65" handwritten into the run-off groove, rather than the normal "1A" to denote Vanguard first pressings.
30 December - In an odd move to an outsider (but probably jus' fine to insiders), Warners Brothers Inc. (later owner of Witmark Publishing) copyrights the piano accompaniment to "Reno, Nevada".
1966
15 February - Dick and Mimi fly from San Francisco to New York City, and take up east coast residency for the next six weeks.
18-20 February - Dick and Mimi do club dates on the east coast, including this three nighter at The Main Point, in Bryn Mawr, PA - it snows and the audience turnout is affected, but the intrepid future rock critic Paul Williams shows up, handing Dick a copy of the just-released Pack Up Your Sorrows single to autograph. Dick remarks he didn't even know it had been released. After the second show, the Fariñas head into nearby Philadelphia to sit for an interview and perform song requests with local folk DJ, Gene Shay, on his long-running Folklore program on WHAT-FM. It is recorded and several years later is the only tape missing from his library ("And it was a good one, too", he remarked).
February - Dick and Mimi tape an appearance on Pete Seeger's Rainbow Quest program. It airs 26 February in its home town, so must have been taped between the 20th, when they left Philadelphia and the 26th, when it aired.
26 February - The Fariñas perform at Boston War Memorial in what is billed as a "Folk Battle" pitting Dick, Mimi and Phil Ochs against Staff Sgt. Barry Sadler, whose hymn to the Green Berets had just made number 1 the week before, a position it would hold for 5 weeks.
13 March - Dick and Mimi join Joan Baez on stage after intermission at Philharmonic Hall in NYC, for four songs : they play accompaniment to two of Joan's songs and then are given the stage to perform "House Un-American Blues Activity Dream" and "Pack Up Your Sorrows".
Late March - Dick and Joan Baez collaborate on what is labeled her "rock album", with Dick arranging and producing; reportedly recording "Anyone who had a heart", "What the world needs now", "My little red book", "Homeward bound", "Sounds of silence", "Yesterday", "Brown-eyed girl", as well as Dick's "Pack up your sorrows" (on which he plays dulcimer), " The swallow song", and a Baez/Fariņa tune, "All the world has gone by". Despite much publicity and Joan's reported happiness with the sessions, after Dick is killed, Joan cancels the album's release, claiming "It just doesn't make me happy", or words to that effect. "Pack up your sorrows" and "Swallow song" are released in the summer of '66 as a single, with "Swallow song" and "All the world has gone by" appearing in May, 1968 on the posthumous Mimi & Richard collection, Memories. Joan's un-labeled copies of the tapes later end up being given to Mimi to use as blank tapes. Mimi astutely plays them first to make sure she won't be taping over something worth keeping...
15-17 April - Fariñas appear at the 5th annual San Francisco State College Folk Festival,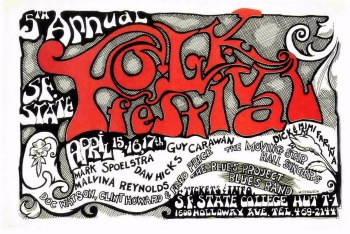 along with old friends Mark Spoelstra and Al Kooper (with the Blues Project), Newport '65 veterans The Moving Star Hall Singers, the always excellent Malvina Reynolds, Doc Watson, Guy Carawan and a solo Dan Hicks!
April (mid-to-late) - Random House throws a publication party for Dick in their office at 457 Madison Ave. in New York City. Dick insists there be music and dancing, and enlists his friends, the Chambers Brothers, as the house band.
19 April - Been Down So Long It Looks Like Up To Me, the novel Fariña had worked on since 1960, is copyrighted.
28 April - Theoretical date that Dick's novel, Been Down So Long It Looks Like Up To Me, is to be published by Random House (reported date anyway) - books usually have official publication dates, though it's usually an arbitrary day, standard for that month's releases: shipping dates usually determine the first availability of the book. First editions of the novel have "4/2/66" printed on the dust jacket's front flap, supposedly indicating a possible pub date, but more likely just what's known as a first edition "point" for later rare booksellers to fight over. This date also marks another batch of copyrights passing through the Library of Congress, this time it is the pig-in-the-python syndrome, with five titles emerging: "Hard loving loser", "House un-American blues activity dream", "Sell-out agitation waltz", "Bold marauder", and "Children of darkness", all from Reflections in a Crystal Wind.
30 April - Mimi's 21st birthday. The Fariñas go to the Thunderbird Bookshop, the hometown bookseller in Carmel, owned by Jim Smith, then inhabiting a converted hay barn (relocated in the 70s to The Barnyard), for an outdoor book signing. Dick signs dozens of copies ("Zoom! Richard Fariña") of the just published Been Down So Long. After the signing, they head for a birthday party secretly arranged for Mimi by Dick at Mimi's sister Pauline's nearby house. During the party, Dick spots a Harley-Davidson parked outside, finds the owner, and always looking for kicks, asks for a spin. He does not survive the crash. Over a week later, Mimi finally returns to their cottage to find a birthday card, wilted orange roses and a pair of shoes she'd spotted on an earlier shopping expedition...
2 June - "Dopico" and "Crysanthemum" are copyrighted.
13 September - Mimi registers her arrangement of "Dog Blue".
15 December - "Miles", the first song with Mimi credited as writer, is copyrighted. An instrumental, it is copyrighted with music by Mimi, but also with unrecorded lyrics by Dick. Mimi also copyrights her composition, "Hamish", from the 1st album.
1968
April - Memories, a collections of outtakes from the Fariñas' first two albums, is released. It also has both sides of Joan's Baez's June, 1966 single of "Pack up your sorrows" and "A Swallow Song", as well as "All the world has gone by" (all produced by Dick for her aborted "rock and roll" album, the latter being co-written by the pair), two performances from the Sunday afternoon New Folks concert at Newport in 1965 (not included on the Complete Vanguard Recording Sessions, in what was probably a bookkeeping error - someone probably assumed the two were edited from the complete Contemporary Song workshop tapes, so they figured to include them as issued on the Memories album would be a duplication). Two songs ("Pack up your sorrows" and "Joy 'round my brain" were noted as being "released as singles", which they were, however not these versions - the singles were shorter, mono and different edits and vocals. Picky, picky, picky...
25 July - Mimi performs opening night at the Newport Folk Festival.
19 November - "All the world has gone by" is copyrighted by Mimi, with "rev. and new lyrics".
1969
5 May - Long Time Coming and a Long Time Gone, a collection of stories, song lyrics, and poems by Dick with notes by Mimi, is copyrighted and the book itself comes out during the month.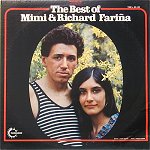 This timeline was put together from numerous sources, but a great deal was also culled from David Hajdu's Positively 4th Street, currently available (with many more words between dates) in cloth and paper at a bookstore near you. Support your local independent bookseller!
© 2002 by Greg Pennell