Been Down So Long It looks Like Up To Me was made into a film of sorts by Paramount Pictures, with filming starting May 25th, 1970, and principal photography completed by late July. It opened in NYC on Friday, September 17th, 1971. A New York moment right up there with the Atlanta opening of Gone With The Wind, in terms of pure spectacle. It is reported that during the film's first screening, no hubcaps were stolen anywhere in the city.
Filmed on location at Allegheny College in Meadville, PA,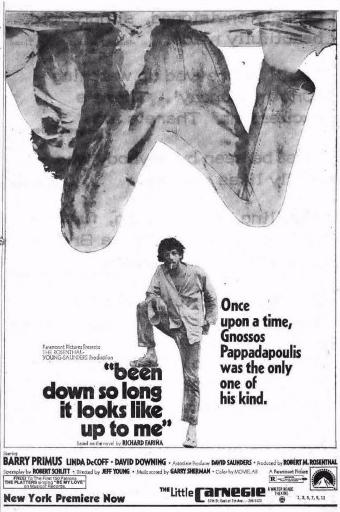 the film was the brainchild of producer Robert Rosenthal and director Jeffrey Young, one of whom claimed at the time that this film had resided at the top of his list from the day he started in showbiz, some two to three years prior to filming.
Rosenthal, according to the Paramount press releases of the time, had been "a successful stockbroker", who produced a short film which won "13 international awards. He also produced 50 documentaries and short subjects. Rosenthal was the first student at the University of Pennsylvania to create a film as his senior thesis...." He made his "debut as a feature length film producer" with Been Down So Long. His insightful comment about his career in features films reads thus: "Then I produced a feature for Paramount. Made 2 cents and I went to law school."
Jeffrey Young was 28 at the time, and had been an American Film Institute intern with Arthur Penn when Penn made Alice's Restaurant in 1969. He'd also studied law at George Washington and attended NYU's Institute of Film and Television. Obscurity seems to have been his paycheck after making this one.
Script writer Robert Schlitt seems to have taken the film's failure well - he'd written the season opener for The Monkees, and later went on to contribute scripts for Hill Street Blues, Hawaii Five-O, Kung Fu and Matlock, Abraham Simpson's video lifeblood.
The actors involved included Barry Primas as Gnossos (who directed Boxcar Bertha, and one actor who still turns up in about every third or fourth film made), Bruce Davidson (The Strawberry Statement) pops up now and then and seems to me got good reviews for some work recently but I have no idea what it was, nor could research churn it up; Linda De Coff ceased acting somewhere in the mid '70s and is now a "divine minister" and "a leading metaphysical practioner" according to her website; David Downing (Heffalump) seems to have left the planet after making Gordon's War, a 1973 epic about three Vietnam vets who come home and declare war on pushers - oddly enough, directed by Ossie Davis.
The film passes hands quietly on the web from time to time, and is listed on Blockbuster's site as stocked in at least one fo their thousands of stores. I understand the state of Utah once refused Blockbuster's request to transport the film across their borders.
© 2002 by Greg Pennell